Progress in Photovoltaics: Research and Applications
Journal info (provided by editor)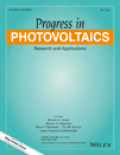 Journal homepage
Issues per year

12

Articles published last year

120

Manuscripts received last year

n/a

% accepted last year

n/a

% immediately rejected last year

n/a

Open access status

no

Manuscript handling fee?

no

Kind of complaint procedure

Other

Two-year impact factor

8.64

Five-year impact factor

7.62
Aims and Scope
Progress in Photovoltaics offers a prestigious forum for reporting advances in this rapidly developing technology, aiming to reach all interested professionals, researchers and energy policy-makers.

Due to the huge growth of interest in the field, we now receive far more paper submissions than we can ever hope to publish in the journal. It has therefore become necessary to revise the Aims and Scope to be more restrictive in the types of papers that are encouraged and to clarify those that are not.

True to the journal's title, the key criterion is that submitted papers should report substantial "progress" in photovoltaics.
SciRev ratings (provided by authors) (based on 1 review)
Duration of manuscript handling phases
Duration first review round
1.7 mnths
compare →
Total handling time accepted manuscripts
1.7 mnths
compare →
Decision time immediate rejection
n/a
compare →
Characteristics of peer review process
Average number of review reports
3.0
compare →
Average number of review rounds
1.0
compare →
Quality of review reports
3.0
compare →
Difficulty of reviewer comments
n/a
compare →
Overall rating manuscript handling
4.0

(range 0-5)

compare →