Langenbeck's Archives of Surgery
Journal info (provided by editor)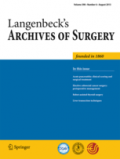 Journal homepage
Issues per year

8

Articles published last year

133

Manuscripts received last year

417

% accepted last year

28

% immediately rejected last year

47

Open access status

optional

Manuscript handling fee?

no

Kind of complaint procedure

Editorial board

Two-year impact factor

2.19

Five-year impact factor

2.20
About
Langenbeck's Archives of Surgery publishes the best results in the field of clinical surgery and basic surgical research. The focus is on the highest level of clinical research and clinically relevant basic research. Published exclusively in English, the journal offers an international discussion forum for controlled results of clinical surgery. Most contributions are original articles that report clinical data from visceral, vascular and thoracic surgery, as well as traumatology, endocrine and transplantation surgery.

It is our goal to make an editorial decision on your manuscript within 24 hours after it is "with editor" (Performance 2017: 20 hours) !
Mean time from submission to first decision was 16 days in 2017!
SciRev ratings (provided by authors) (based on 4 reviews)
Duration of manuscript handling phases

Duration first review round

1.0 mnths
compare →

Total handling time accepted manuscripts

1.5 mnths
compare →

Decision time immediate rejection

n/a
compare →
Characteristics of peer review process

Average number of review reports

3.0
compare →

Average number of review rounds

2.3
compare →

Quality of review reports

4.5
compare →

Difficulty of reviewer comments

3.0
compare →

Overall rating manuscript handling

4.5

(range 0-5)

compare →