SciRev ratings (provided by authors)
Duration of manuscript handling phases
Click to compare

Duration first review round

n/a
compare →

Total handling time accepted manuscripts

n/a
compare →

Decision time immediate rejection

n/a
compare →
Characteristics of peer review process
Click to compare

Average number of review reports

n/a
compare →

Average number of review rounds

n/a
compare →

Quality of review reports

n/a
compare →

Difficulty of reviewer comments

n/a
compare →

Overall rating manuscript handling

n/a
compare →
Journal info (provided by editor)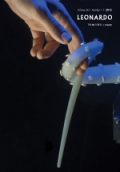 Journal homepage
Issues per year

5

Articles published last year

150

Manuscripts received last year

n/a

% accepted last year

n/a

% immediately rejected last year

n/a

Open access status

optional

Manuscript handling fee?

no

Kind of complaint procedure

Editorial board
Aims and Scope
Leonardo is today's leading international peer-reviewed journal on the use of contemporary science and technology in the arts and music and, increasingly, the application and influence of the arts and humanities on science and technology.
The companion annual journal, Leonardo Music Journal (LMJ), includes a compact disc or multimedia CD-ROM. All subscribers to Leonardo receive LMJ as part of a yearly subscription.

Subscribers to Leonardo become associate members of Leonardo/ISAST (International Society for the Arts, Sciences, and Technology) and receive reduced rates on all ISAST publications and activities.